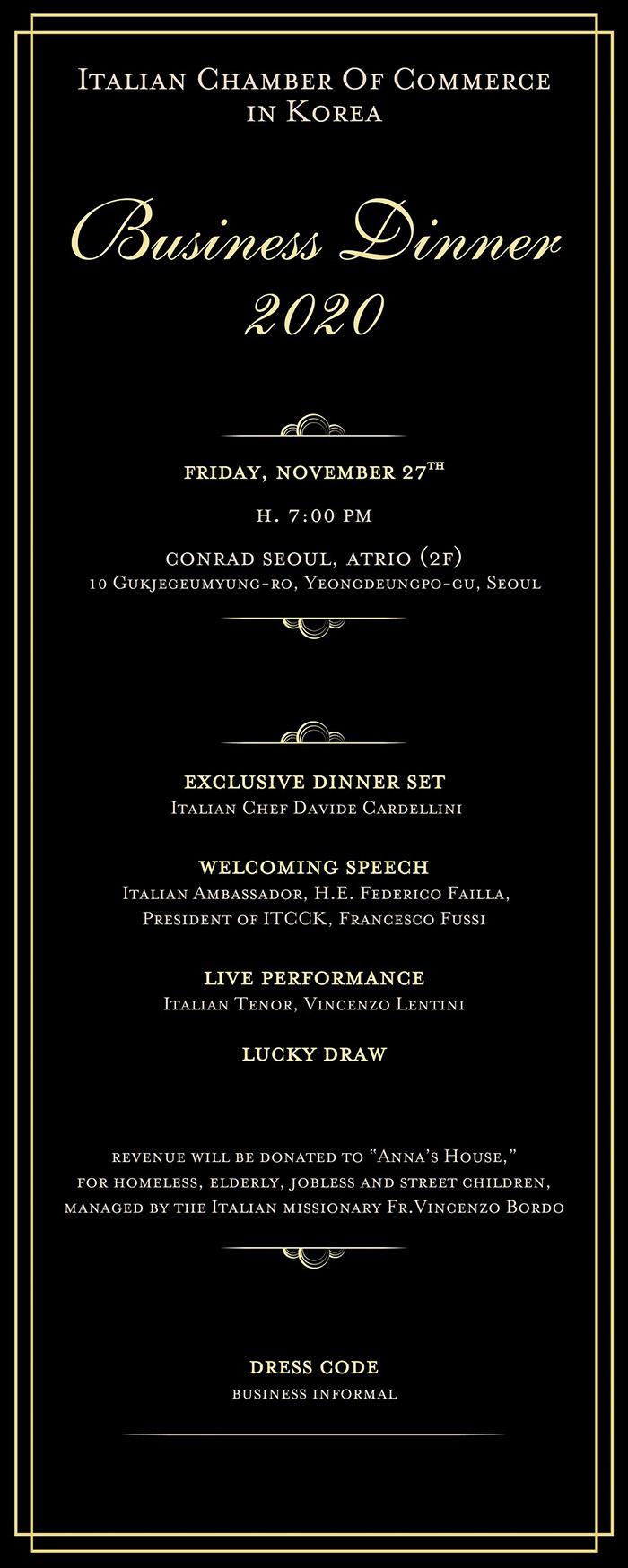 Dear ITCCK Members and Friends,
The "World Week of Italian Cuisine" (November 23 – 27), celebrated under the direction of the Italian Embassies in over one hundred countries in all the continents, represents a wide showcase for the sector of the agro-food "Made in Italy." Furthermore, it represents the possibility of promoting Italian culture and tradition abroad.
The excellence of raw materials characterizes the Italian culinary tradition: Italy has thousands of premium small producers, deeply rooted in its territory. The "World Week of Italian Cuisine" is the occasion to enhance this extraordinary cultural and economic heritage and bring it to the attention of foreign consumers.
The Business Dinner will be an occasion to taste an original Italian menu prepared by Davide Cardellini, Italian chef with over ten years of experience in luxury hotels and a 2-star Michelin restaurant. It will be a perfect opportunity to enjoy authentic Italian cuisine and Italian wines and to network with friends and new contacts.
The Italian Ambassador, H.E. Federico Failla will attend the dinner welcoming the participants with a speech, followed by the President of ITCCK, Francesco Fussi.
During the dinner the Italian Tenor Vincenzo Lentini will perform original classic Italian pieces followed by a lucky draw. The entire lucky draw revenue will be donated to "Anna's House," a center which welcomes the homeless, elderly, jobless and street children, managed by the Italian missionary Fr. Vincenzo Bordo.
*Ticket Price:
Member: 120,000KRW + 10% VAT
Non-Member: 140,000KRW + 10% VAT
*Please RSVP by Friday, Nov. 20th, 2020
*RSVP HERE
ITCCK President
Francesco Fussi